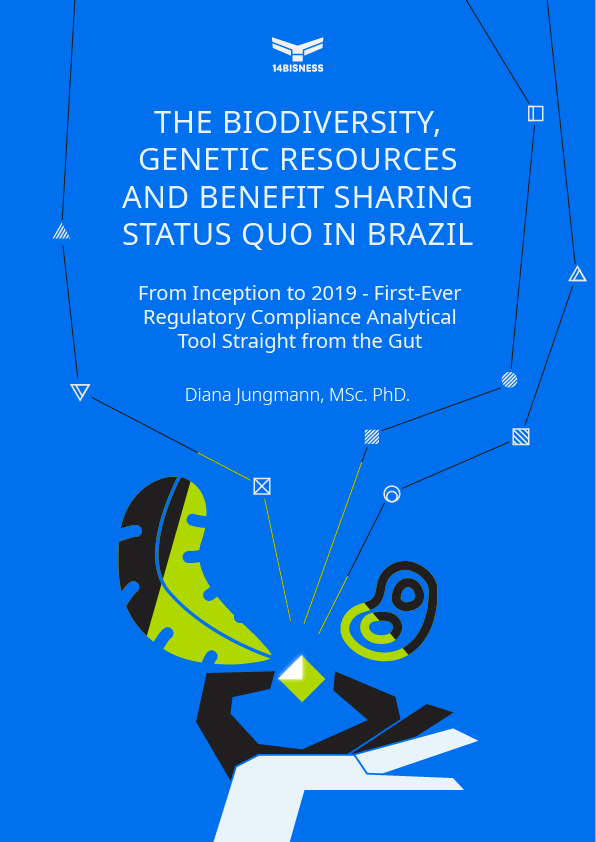 The Biodiversity, Genetic Resources and Benefit Sharing Status Quo in Brazil
From Inception to 2019 – First-Ever Regulatory Compliance Analytical Tool Straight from the Gut
Author
Diana Jungmann
MSc, PhD
Versions
English
Portuguese
About the
Technical Report
This is a unique independent study developed over two years of research. It is an essential tool for compliance and advocacy purpose. Its main objective is to help professionals in the private and public sector understand the Brazilian Biodiversity Access and Benefit Sharing System (ABS) status quo, its changes since the law's inception in 2000, and what steps should be taken to substantially mitigate risks of non-compliance.
Do you make use of Brazilian biodiversity in your commercial product or scientific research? As of November 2018 users accessing genetic resources and associated traditional knowledge are required to be registered on SisGen.
With official data we present key findings and interpretations of the law's impact and challenges so professionals can benefit from a condensed source of information in this comprehensive Report.
The Brazilian ABS legislation is seen by members of the Convention on Biological Diversity (CBD) as an efficient benchmark in regulating access to biodiversity and a possible blueprint for the framework of other countries. However, its perceived efficiency is far from reality.
While the new Brazilian law implemented an online registration platform (SisGen) to manage access to genetic resources and associated traditional knowledge, no goals were established by the Federal Government to make use of metrics provided by the system. This issue extends beyond Brazil: over the last two decades, CBD member countries have been unable to properly evaluate national policies due to their own lack of data, metrics and goals.
As evidenced in the study, the Brazilian ABS System, presents unsatisfactory results since its creation. The undeniable conclusion impacts directly Brazil's decision to ratify the Nagoya Protocol.
The resources provided in this Technical Report bring a much clearer degree of transparency on the current ABS System implementation and provide the necessary tools for stakeholders to pursue a path where effective solutions can be achieved.
Diana Jungmann is founder of the 14Bisness. Holds a PhD degree in Molecular Biology, MSc in Biophysics and Executive Education in Intellectual Property (IP) and Business Strategy from Harvard, Wharton and IMD.
Industry-Government liaison for the access and benefit sharing new regulatory framework in Brazil.
Former head and spoke person of IP and Bioeconomy at the highest-level organization representing industry in Brazil (CNI). Diana co-authored the pioneer Bioeconomy Agenda for Brazil and was the Bioeconomy Forum coordinator. She created and co-authored the "IP Program for Industry Innovation" impacting more than half a million professionals and students in the country.
Former Ambassador to Brazil of the Intellectual Property Commission of the ICC in Paris and Member of the Task Force on ABS.
Entrepreneur, inventor, consultant and speaker. Her cross-cultural and cross-sector skills grants Diana a unique perspective towards bioeconomy, IP and innovation. She is involved in high-level public policy discussions with industry, academia and government leaders. She believes in innovation as a means of creating opportunity, abundance and prosperity for people and society.